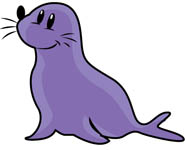 Pufferfish – Level 3
This level is working on front and back streamline kickers with no assistance and forward movement and side glide off the wall.
Seals – Level 4
This level is working on good freestyle arms, back kick endurance, side kick and treading water.
Our fee for one two week group class session is $185 ($166 for RAC members). One two week private class session is $359 ($323 for RAC members). No spaces are guaranteed until you register online and receive an email confirming your enrollment. At Boost Swim School, we try our best to make sure swimmers are grouped in lessons by the correct skill level. If you are unsure of your child's skill level, please contact us at info@boostswimschool.com.
If there is a class below with no openings, you can add yourself to the wait list by clicking on the far left column titled "Wait List". If this option is not available that means the class and the wait list are currently full. Please limit your wait list applications to one class.
Session Dates: (Monday - Thursday)
Session 1: June 13th - June 23rd
Session 2: June 27th - July 8th (closed on 7/4 with a make up day on 7/8)
Session 3: July 11th - July 21st
Session 4: July 25th - August 4th